Well, I went and did it.  Placed the order for both Monster Cross Disc (MCD) and Road Plus disc frames.  I recall a few years ago someone sent me a link to some forum where my frames were being discussed.  One commenter wrote something to the effect that I should just get over myself and get a disc brake frame produced.  I thought it was funny at the time and it's still funny.  Get over myself.  Okay, consider myself gotten over.
I've glossed over some of the things to expect on the new MCD and Road + frames in previous blog posts.  Recently, I've had inquiries about placing pre-order deposits on frames and sizing.  Those are the two topics I'd like to divulge today.  And pricing.  Let's get that one over with now – $695 for frame/fork.  It's a $100 increase over the rim brake frame, but the dropouts will be stainless steel, there's more braze-ons, and the fork is more labor intensive.
Pre-order deposits – not yet.  While I'm super appreciative of the fact folks want to give me money to secure a frame that hasn't arrived in my hands yet, I'm not all that keen on having people's money without giving them something in return.  There's no way I'd be able to justify a crowd-funded project with the end of the tunnel a year down the road.  And I don't need the advanced payments to pay for each production.  The shop does well enough that I've been able to pay for all production runs of frames in cash.  Once I know more about the production timing and know that things are going along without a hitch, I'll open that pre-order window.  Probably sometime in Spring.  I do appreciate the offers, though.
Sizing.  Geometry.  Whatever you want to call it, it will be different than the previous sizes.  As I've stated in the past, the new disc frames will have much more of a slope to the top tube.  That means smaller frame sizes, but not smaller frames.  More seat post exposed.  More seat post exposed means it could be a smoother ride because the seat post is flexing more and taking the edge off small bumps and vibrations.  More slope also means the frames will look more moto (to my eye).  And more moto goes more better with disc brakes (according to my aesthetics).
Since I've started this project, I've created frame drawings for hundreds of owners showing your fit on my frames.  What I've found is that y'all like your bars up near your seat level – some a bit above, some level, some a bit below.  A lot of the drawings I've done include a generous stack of headset spacers.  Y'all really don't like to slam that stem.  And I don't blame you.  These new disc frames allowed me to create something new, from the ground up, taking into account what I've learned from fitting and sizing riders.  When you look at the geometry chart of the disc cross frames and compare them to the rim brake cross frames, you'll notice that the stack has increased fairly significantly.  And reach has come down a bit.
Increasing stack means you can run the bars where you like them without resorting to a big stack of headset spacers.  I think this gives a lot more flexibility to setting up your bike to fit you easily.  Fewer spacers, choosing stems with different angles, flipping stems.  And because the stack is increased (read head tube length increased), that inherently means that the reach is decreased because as the stack is increased in-line with increasing head tube length along the head angle, the reach will shorten.  Simple geometry.  As you look at the geometry chart below and compare the medium/50cm MCD frame with the 56cm rim brake cross frame, you'll see stack increased 19mm (meaning one less 20mm spacer you'll need to use) and reach decreased 6mm.  Let's look at that as it pertains to fitting and frame size.  First is the current 56cm rim brake cross frame.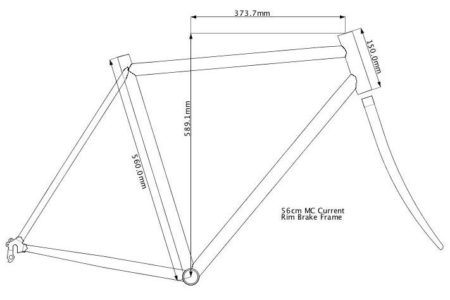 This is the existing 56cm cross frame.  589.1 stack, 373.7 reach, 150mm head tube.  Now let's look at this exact frame as if it a 20mm headset spacer was built into the head tube.  I chose 20mm because the new 50cm MCD frame has a 160mm head tube, and the new disc fork is 10mm taller than the rim brake fork.  Virtually all of the sizing drawings I've done include at least one 20mm spacer.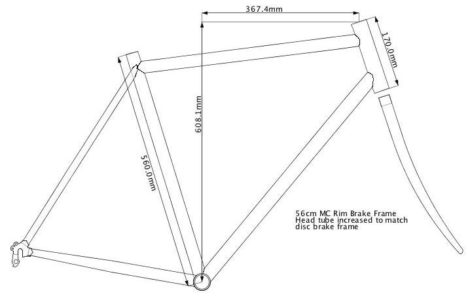 The same frame as the current 56cm, but the head tube increased by 20mm results in a stack/reach of 608/367.4.  And now here is the new 50cm/medium MCD frame.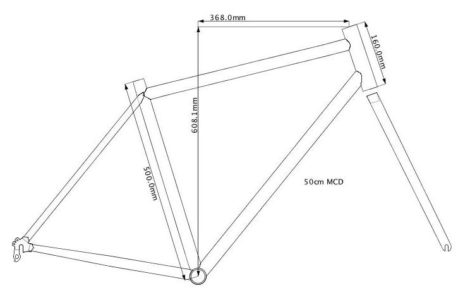 See how that worked.  608.1 stack and 368 reach – virtually the same frame size as the 56cm monster cross rim brake frame with regards to how someone might fit on it.  I didn't include a bunch of other dimensions, but trust me, the 56cm frame with the 170mm head tube is the current 56cm frame with a simple 20mm increase to the head tube.  You can have your cake and eat it too.  Or you can have your cake and eat it without resorting to tall stacks of headset spacers.  Maybe you can now slam that stem.  Not that that is important.
I showed the 56cm frame for reference, but the same thing applies to all the other frames as well.  In addition to fewer spacers, the stand over heights will be improved with the increased top tube slope.  Stand over went from 82cm on the current 56cm frame to 80cm on this new 50cm frame.
I'm now two glasses of wine into this post so I'm hoping it all makes sense.  Here's a geometry chart to show the current rim brake frames and the new disc brake frames for comparison.
New Disc Geometry for blog post
(What's playing:  Screaming Females It All Means Nothing)
---