There's something about a set of custom, hand-built wheels that rings of someone taking the time to sort out all the various combinations available to come up with a specific build for that particular person.  There's nothing wrong with all the pre-built wheels out on the market.  They are made by companies who specialize in complete wheels.  Rim, hub, spoke – the wheels are there, built, waiting for you to buy them and install on your bike.  Easy.  And fairly homogenous when you look around a group ride and see that everyone has the same wheel.  You know the wheel, black deep profile rim; black, fat bladed proprietary spokes; black hub; radial lacing in front and one side of the rear wheel.  Maybe one spoke is a different color so it stands out.
Then you see the guy who's got a set of wheels that don't look like all the others.  What's up with those things.  The spokes are silver and they cross over each other.  And why are there so many spokes?  That rim looks meager at best.  When you ask him to borrow a tube, he can't help you because his valves are too short for your rim.  They probably weigh a ton.
What that guy knows is the value is a set of wheels that were built specifically for him (or her).  What you don't know is that they likely weigh about the same as your off-the-shelf wheels (or less).  And they are easily serviced if the need arises at virtually any bike shop. Proprietary spokes?  Not here.
This is where I come in.  I build wheels.  I really like building wheels.  I had an outstanding mentor in Chuck Hoefer at Pacific Coast Cycles.  Chuck builds great wheels.  Since I opened Black Mountain Cycles in the summer of 2007, I have built every wheel that left the shop.  I've been building wheels since 1989.  Not a long time compared to some folks I know, but that's over a quarter of a century.
So, what's the process to get a set of wheels built?  Well, I'll ask you:
Your weight?
Do you ride light for your weight?
Or are you hard on equipment?
What kind of riding you'll be doing?
What tires you'll likely use?
Is tubeless something you'll consider?
And what's your budget?
Then my job is to put together a wheelset that suits your needs perfectly.  I build from a plethora of available parts, but some of my favorites I like to work with are:
That's about it.  Call or e-mail to get things rolling for your set of custom wheels.  Within about 10 days or so, I'll have your set ready to ride.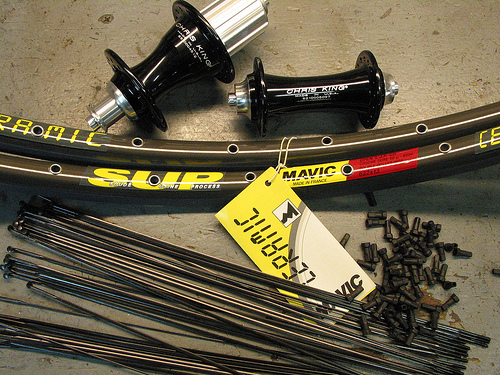 Rims
DT Swiss
H Plus Son
HED
Mavic
Pacenti
Stan's No Tubes
Sun-Ringle
Velocity
Hubs
Campagnolo
Chris King
DT Swiss
Paul Components
Shimano
SRAM
Schmidt dyno hubs
White Industries
Spokes and Nipples
DT Swiss (Sapim and WheelSmith are available, but I typically use DT Swiss)