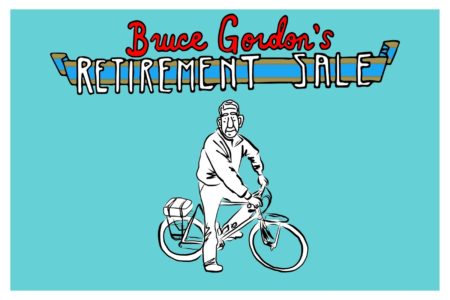 Several years ago, my tax accountant asked me what I planned to do when I wanted to retire.  Sell the business or sell everything off and end up with zero inventory.  I thought about it for a bit.  What is Black Mountain Cycles without me and would someone want to buy it?  Good question and maybe that might happen, but, I said "sell everything off – end up back at square one."
Every once in a while, I'll think about that.  What would I have to do to sell everything off?  Heck, I've got a sale table of some good stuff that I'm trying to sell at up to half off to slim down my inventory and it ain't moving fast.  Getting tired of looking at some of that stuff.  How long would it take to sell everything?  I know it takes a considerable amount of energy just thinking about it so it's got to be completely energy draining putting that plan into action.
The good news is that day isn't looming for me for a long time.  However, that day is coming for Bruce Gordon.  Bruce has decided to hang up his torch, stow his files, wring out that last chicken neck.  In Bruce's own words, "I am 69 years old and it is time to retire."  After 47 years in the bike industry, it's time.
And this is where you come in.  You the bike geek.  You the lover of all things bike.  You can help with Bruce's retirement because Bruce has to sell everything, leaving his shop space empty.  Everything except the tires which Bruce will continue to offer for sale after he retires.  And there is a lot of stuff.  To a guy like me, it's the proverbial "kid in a candy store."  The dates you need to remember are November 3, 4, and 5.  A Friday, Saturday, and Sunday, 10-5.  Those are the days where everyone is invited to the BG Cycles Retirement Party & Sale to pick through Bruce's stuff and leave some cash behind for your particular precious.  Show up early, bring lots of cash, and have fun.  Because it's also a party, there will be refreshments.
If you are of the tall-statured variety (we're talking north of 6'3″), there are still a lot of very special bikes that are for sale.  Bruce's collection of personal bikes is on offer individually.  Even though I have a large collection of mountain bikes, my personal love is for the old road bike.  There's just something right about the lines and shape of a road bike from the 70s and 80s.  And the one bike of Bruce's that exemplifies that aesthetic to me is his pink road bike built with Campagnolo Super Record.  Bruce and I agreed on a price and now that bike is mine, but, in a way, it will always be Bruce's.
As a last word, I've got to say that there is a certain value in most of Bruce's possessions.  If you show up, please be respectful to that.  Don't expect something that has real value to be sold for pennies.  There will be some good deals, some really great deals, but this isn't the flea market where tweakers are selling thousand dollar machines for twenty bucks just to get their next high.  This is someone's life.
If you can't make it that weekend, you are free to visit Bruce at his shop and get a jump on the other folks.  Call him before you go to make sure he's there – 707-762-4107.  See you there!  409 Petaluma Blvd. S, Petaluma, CA.  Did I mention bring cash?
(What's playing:  Bob Dylan One Of Us Must Know)
---
6 responses to "Retirement"