You're rolling along, getting stuff done, and then you realize "dang, I'm almost out of frames."  But you've got at least one or two available in each size and it doesn't seem urgent to order more.  Yet.  Yeah, that pretty much happens every time framesets start to get in short supply.  I try to be proactive.  And this time, I was a bit off the mark.
What does that all mean?  It means the the Monster Cross V5 frames are in very limited supply.  I'm out of stock in sizes 56cm and 58cm in both colors.  There's a tiny child's handful of pink frames in sizes 52cm, 54cm, 60cm, 62cm, and 64cm.  In British Racing Green, the only sizes available are 60cm and 62cm with a modest amount available in each size.
The good news is that I did place a new order for Monster Cross frames 4 weeks ago.  I'll probably have them around the first of the year.  Any changes from the V5 frames?  Nope.  I think the V5 frames were nicely dialed and the Pacenti P-B-P fork crown really made the frames extra special.  Well, one thing changed – two to be precise:  the colors.  The colors for this run of frames will be red and a semi-gloss black.  The semi-gloss finish is really nice.  It's not at all like a full matte finish that smudges at the slightest touch with a greasy hand.  It's a finish that's like the clear coat I use, but is not shiny.  It's cool.  Trust me.  The red is kind of a slightly orange-y red, maybe a bit dusty.  The exact red color code is a Pantone 18-1550 Aurora Red.
Here's a color tube sample clamped by a more true red EVT clamp.  Capturing the actual color of reds is not easy, but this is a pretty good representation.  When you look at the color tube sample by itself, it's really red.  Against something that really is really red, not so much.  It's a good looking red.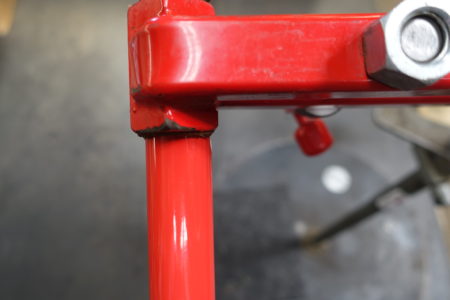 But what about the new road frames?  The reality is cross frames sell about 2:1 against road frames, so the availability is still really good for all sizes of the V3 Molteni orange framesets.
And there are still a few older 50cm and 65cm frames available – and they're on sale for $425 + shipping and applicable sales tax.  If you're at either end of the sizing spectrum, one of these might be for you.  Check them out on the Sale Frame page.
(What's playing:  Led Zeppelin Communication Breakdown)
---